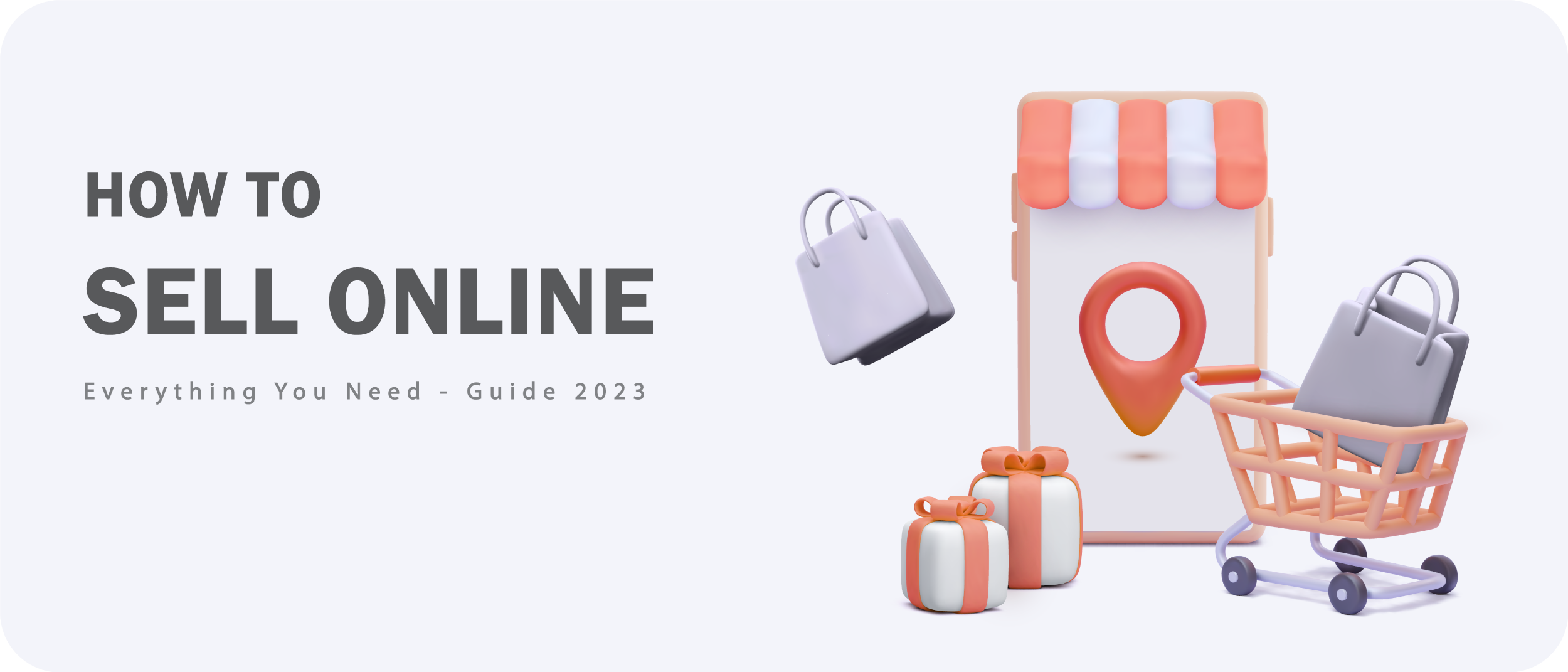 Do you want to sell online? Great idea! But there is so much information on the internet about it, and you probably still need to decide which one to follow. We have prepared a guide that you can say that you are glad you found it. This guide is practical, straightforward and the most comprehensive guide. Follow this complete guide and start selling online.
Most people who want to start a business worldwide have begun to sell online. It's still okay for you to get started, too.
Nowadays, e-commerce is used in almost every sector, and it is growing daily because it provides a lot of convenience for the user.
Whether a beginner or an online seller, you can quickly start e-commerce and earn money with these seven steps.
Content:

How to Sell Online in 7 Simple Steps?

Decide on the product you want to sell
Do market research for the product
Create Your Brand
Make your supplier and delivery plan
Build your e-commerce website
Build your sales channels
Realize your dreams, and start selling online!
---
How to Sell Online in 7 Simple Steps?
We will examine in detail the steps that will help you start selling online.
You can open your first online store with this guide and start selling immediately. If you follow this guide, you will make your first sale.
But how? Let's start!
1. Decide on the product you want to sell
When it comes to sales, your business needs a product. If we plan a sale here, deciding what to sell to whom is the most critical part of this business.
In short, you need to know your target customers and prepare the products they will demand sale. For example, selling jewelry or shoes to college students.
Your product idea can be a physical product or a digital product. Both will have different management challenges and advantages.
Physical products such as shoes and clothing can be shown to customers and are easier to sell online. However, following up on shipping processes and stock management is necessary.
In digital products, the initial cost is low, shipping etc. It provides convenience as you will not have processes, and a developed product can be sold repeatedly. However, product development costs are high and require expertise.
The first step here should be to decide what to sell. When we decide on this and imagine to whom we will sell it, we are on the right track.
2. Do market research for the product
We have decided on the product we are going to sell. Let's say we want to sell necklaces for women.
Here, it will be our priority to examine other products and competitors by analysing the market. We can examine the product information and prices by researching the marketplaces selling women's necklaces. We can, most importantly, understand what kind of necklaces customers want by examining user reviews. This is important for the right product.
For example, by searching for "necklace", you can immediately review the products that received the most comments.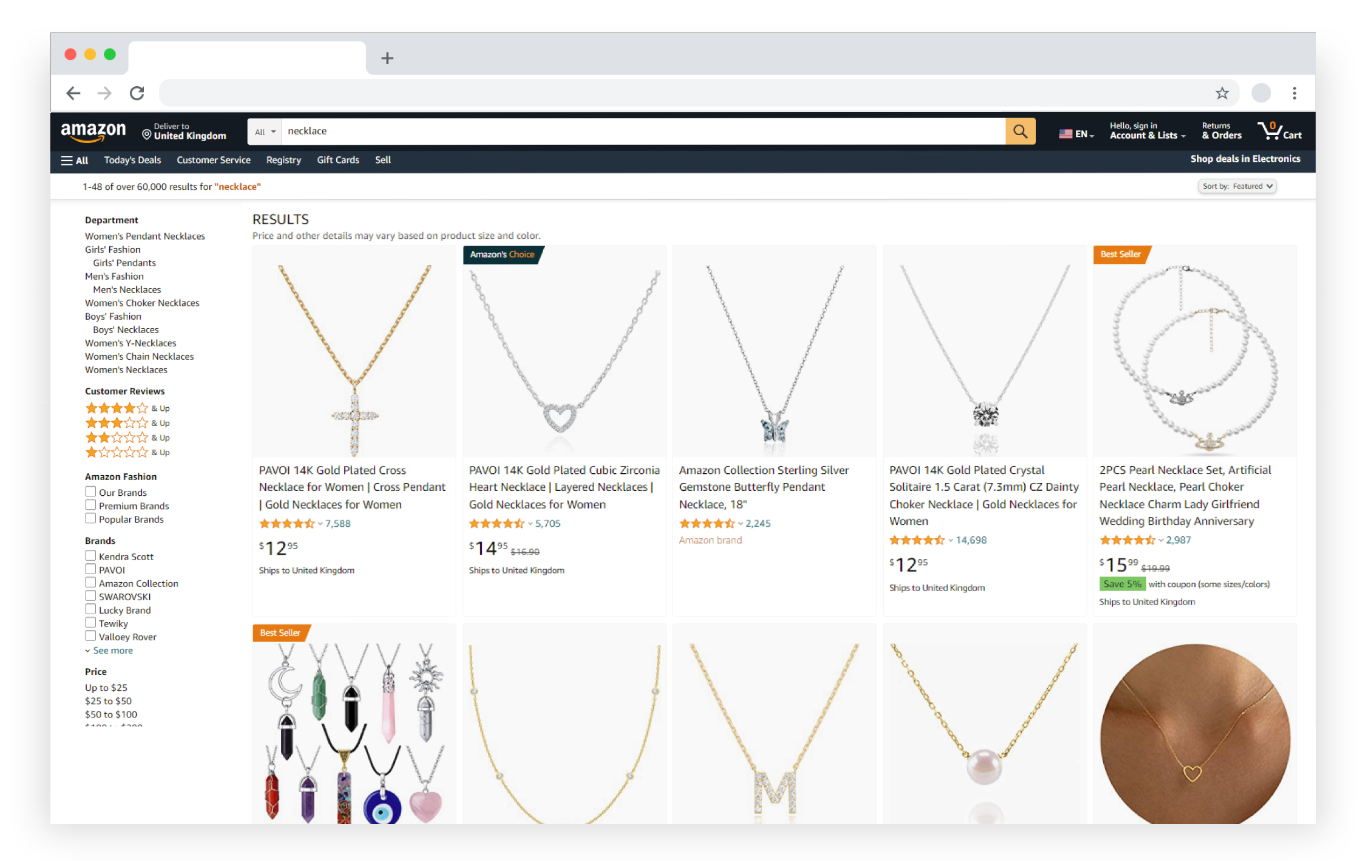 Another alternative is social media. In particular, you can do this search on Instagram (IG) and examine the profiles and user comments of Instagram sellers.
Tip: You can search for the word necklace on Instagram or examine it in detail from the tags tab.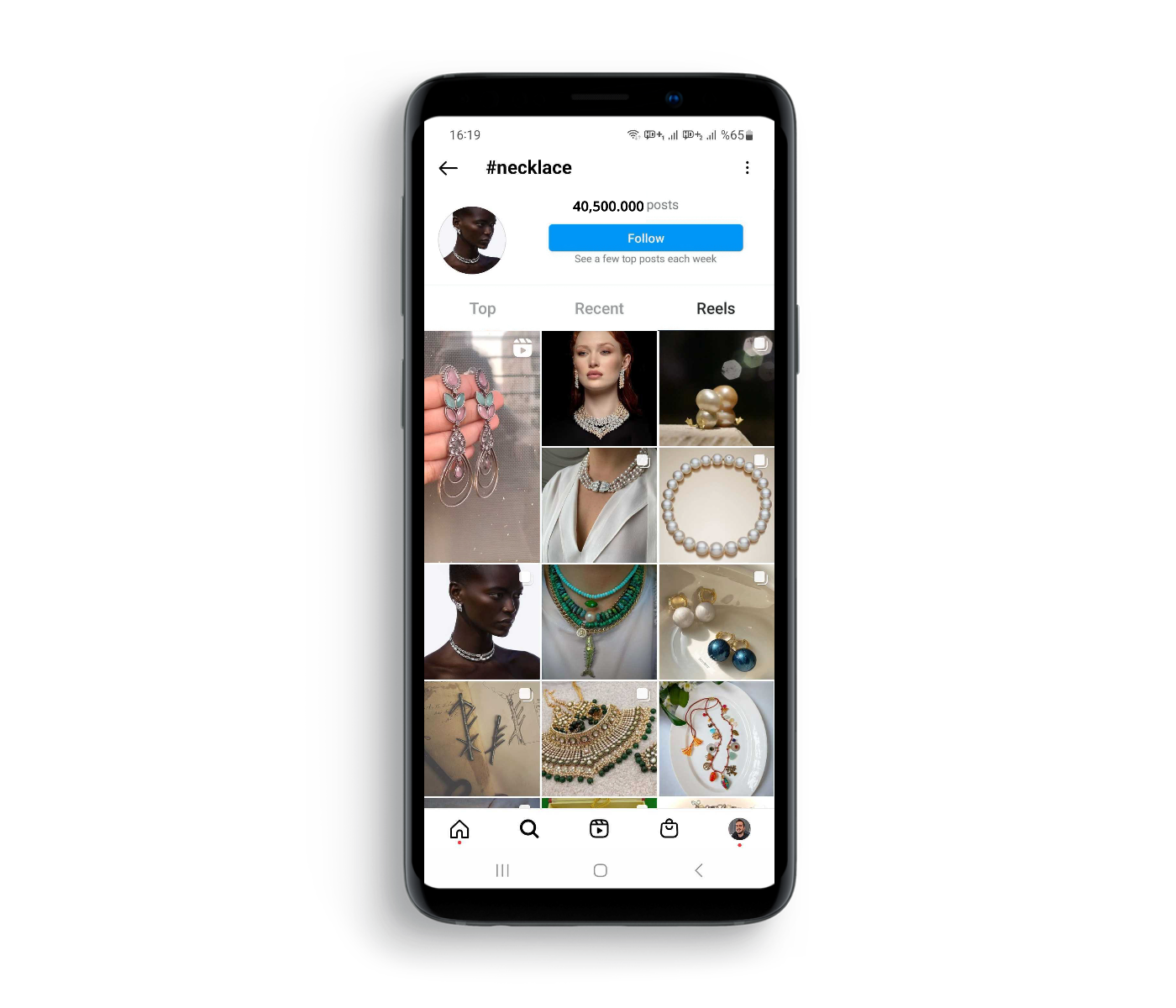 As a result of our analysis of these two different channels, we need to find answers to these questions about the necklace product;
Who is taking it? (e.g. young girls)
Where to sell? (Ex. Instagram and website)
What is the correct price range for the product?
The main reason for doing market research here is to determine the need in the market and to determine the product, sales channel and the right price that will solve it.
If we have determined all these and decided, we can move on to the next step.
3. Create Your Brand
We now have a product and a target market we want to sell. Now we need to decide with which brand we will sell the products we have determined to the target audience we have chosen.
Decide what your brand wants to achieve. Brands with a clear vision have always been stronger.
The vision you set for your brand is the value you aim to create. When you determine this, it will be easier for you to focus.
After determining the vision, you need a catchy logo. Your logo is one of the most critical building blocks of branding, reflecting your brand's personality. Since your logo will be used in many areas, such as your social media, website, cargo bags, etc., attention should be paid. You do not need to be a graphic designer to create a logo. You can have a quality and original logo suitable for your budget in 1-2 days by getting services from free platforms such as Bionluk.
A slogan that is suitable for your brand and vision and will attract the attention of your target audience will make you more memorable.
4. Make your supplier and delivery plan
Have you ever thought about how you will supply the product you will sell? Will you produce the products, or will you work with a manufacturer?
Let's take a look at product sourcing strategies:
You can manufacture products yourself and sell handcrafted items.
You can buy from the wholesaler.
You can work with a manufacturer.
You can use dropshipping.
Dropshipping: In this method, you sell products from a third-party supplier, and then when the order arrives, the supplier ships the products directly to your customer.
It would help if you found the closest supplier for product supply. Thus, you prevent long shipping times for your products and reduce the cost.
Shipping the products to your customers is as important as the supply of products. If you want a hassle-free customer experience, which is very important, you need to ensure there is a secure delivery without delays.
In this regard, you can work with the contracted cargo companies of Shopiroller more cheaply and safely.
5. Build your e-commerce website
It's time to start your online business. Let's set up your store together!
To set up an online store, you can find many infrastructures developed with different features in the market.
Everything you need here should be together, a platform that does not require coding and allows you to manage the entire system from a single panel. Thus, you can easily manage the system without paying extra.
If you want it advanced and easy, choose Shopiroller. Even your Aunt Ayse can use it.
Shopiroller – Start selling online quickly and grow your business
Shopiroller is the easiest and most practical platform that allows you to start online sales and manage your multi-channel sales. It provides you with everything you need to run your online store, such as planned sales channels, stock management, order management and various integrations.
You can add your products to Shopiroller in the categories you want and start selling immediately. You can start for free and start receiving orders without paying any money.
We've prepared an excellent starter document for beginners and those struggling to start selling online. With this step-by-step guide, you can set up your online store in 30 minutes.
Here are some tips for your e-commerce website to be of good quality:
Chat plugin: You must add WhatsApp integration to enable users to reach you instantly. This will increase your trust, and the ability to communicate with you instantly will enable the user to buy without losing motivation.
Product images: It is vital for the appearance of your web page to take the images of your products from the same angle and with the same background. So you can have a more professional page.
Product descriptions: You must include at least three images of your products. In addition, you should write detailed information about your products in the description field.
Homepage: Give importance to your homepage design. This is where users first see and are impressed.
Online Payment Method: A smooth and easy payment method is important for your users. That's why you need to add an online credit card payment method.
6. Build your sales channels
What is the best way to sell online?
The most important part of the business is figuring out how to sell the identified and planned products. So where will we be visible and find our customers?
Ready to discover the best way to sell online? Let's start!
E-commerce websites are suitable for entrepreneurs who want to create their brand and dominate every aspect of their business.
The most important benefit of selling using your store is that all processes, such as managing, monitoring and deciding on the design, are under your control. Indeed, sales channels will only give you as much freedom as your store.
With Shopiroller, you can create your own brand's online store without knowing any coding and customize it as you wish. It is suitable for beginners and is free.
It is suitable for those who want to sell on Amazon, Trendyol, Hepsiburada etc. marketplaces and start selling at low cost.
Marketplaces allow selling to a ready audience with a pre-installed platform. Due to the easy start, the competition is high, and there are many sellers like you. That's why you need to be open and competitive.
It charges you for each sale you make on the marketplaces. That's why you need to research the marketplace you will choose well.
If you want to become a brand, selling in marketplaces may not be for you. Marketplaces must give you more opportunities to manage your brand and customer relationships.
Social media platforms such as Facebook, Instagram, etc., are great channels for those who want to be visible with your brand and interact with your customers.
You can open a social media account for your brand or business and display your products. So your users will start seeing you and asking questions. It will start leaving you orders via DM (messages).
You can also reach your users more easily by advertising on social media.
Tip-1: When sharing the product image here, do not forget to add "hashtag" starting with "#" about the product. You must also open and use a business account.
Tip-2: You can add your Shopiroller store link to the profile for users who want to order from you. You can also get paid via DM with the link payment feature. You can share the product payment link in your stories.
Tip-3: Stability is important in social media, Instagram. You should regularly share stories and product images daily and give quick answers. Nobody wants to order from a business that has not been active for a long time.
7. Realize your dreams, and start selling online!
The number of orders in the world of e-commerce is increasing daily. That's why you can get your share in this market, whose market share is increasing day by day.
As long as customers can find you and make a hassle-free payment, you are an active business in the market.
The best way to sell online is to create your e-commerce website. After this setup, you need to ensure your customers find you. You have to drive traffic and be active on social media.
Market your brand in different channels, and be visible, but you must manage them from a single panel. This will save you extra costs.
If you have a product idea that you believe in selling online and plan to sell it to anyone, we can solve the rest with Shopiroller.
You have started selling online if you complete the steps outlined in this article. You can contact us by sending an e-mail to [email protected] or by contact to WhatsApp to get support.
---